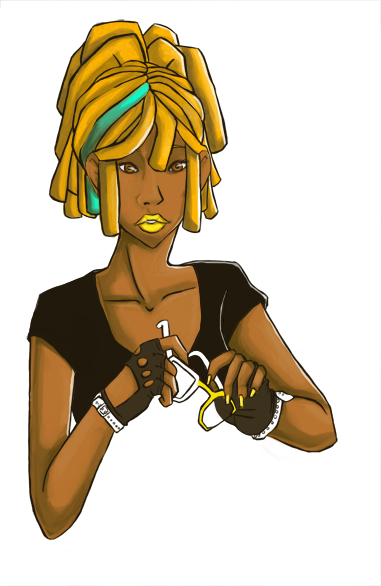 A quick post before I go to bed. Goddamn I'm tired. Colored while watching/listening to The Producers. Favorite movie ever.

You can find the original in the last post.

Johannah's hair is acutally different right now, dreadlock pigtails in the same orange/blue style, but they're such a hassle to draw. I've been playing Rock Band a lot over the last couple days, so I now remember most things about Johannah that I over looked in my last pictures, like her bullet shell belt and anklet type thing.

I need to finish shading the gloves, the buckle, and add the earings. The shirt is staying that way.

This is the only thing I've done artisticly over the last week. We finally have power and internet, so it shouldn't become a trend. I have some commissions to plow through, so wish me luck.